Possible Executioner Buried with Knives at Chotuna-Chornancap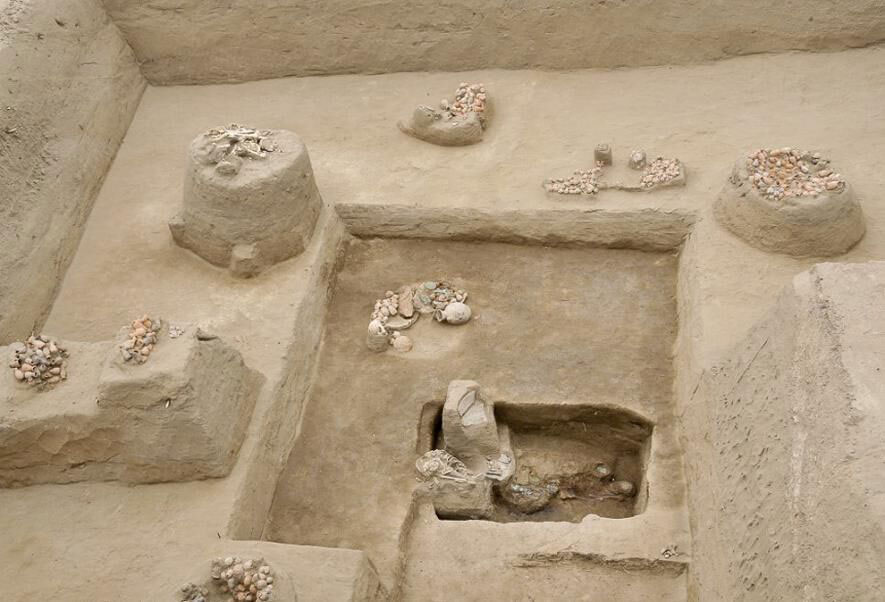 Ceramic vessels and other offerings surround the grave of the elite 14th-century executioner.
In 2011, archaeologists discovered the body of what some believe is an elite 14th-century executioner at the Sicán ceremonial center of Chotuna-Chornancap. Peruvian archaeologist Carlos Wester La Torre led the excavation and believes the executioner was a key player in human sacrifice rituals. La Torre and team think the skeleton belonged to a male between 20 and 30 years old, and that the tomb was built sometime in the late 1200s or early 1300s A.D., toward the end of the Sicán period.
Offerings included in his grave led this team of archaeologists at Chotuna-Chornancap to believe this executioner was a member of the Sicán elite. He was buried with ceramic pots, a skirt made of copper disks, and ornate copper knives.
However, archaeologist and Sicán expert Izumi Shimada says that just because the tomb included knives does not mean the skeleton belonged to an executioner. He explained that knives made from precious metals such as copper or even gold were status symbols for the Sicán elite. It was typical for members of the upper class to be buried with such blades.
Text Source:
Than, Ker. "Ancient Sacrificer Found With Blades in Peru Tomb?"National Geographic News July 2011.