The Sacred Lanzón Stela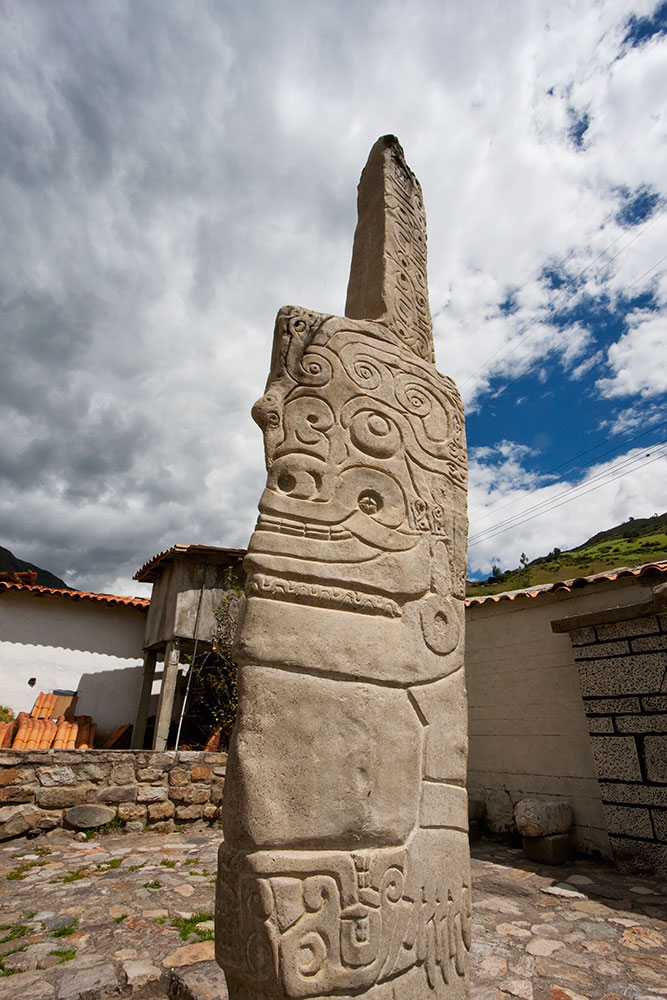 The ceremonial core of Chavín de Huántar is marked by a stone-paved courtyard surrounded by towering steps of stones. This structure is hollow and houses one of the most sacred images of Peru, the Lanzón, or great lance. The Lanzón was named for its shape and still stands in its original place in a temple corridor at Chavín de Huántar in Peru's northern highlands.
Some 3,000 years ago, a master sculptor carved the Lanzón in the image of the main supernatural being of the ancient Chavín religion—a grinning, fanged man-jaguar with serpents representing hair, and long, curved fingernails.
Another impressionable image in Chavín art is the "Staff God," which is similar to the jaguar-man in Lanzón stone, except that it's holding a staff. This imagery appears not only on stone monuments and architecture, but also on pottery, cloth, and objects made of wood and hammered gold.
Text Source:
Stuart, George E. Ancient Pioneers: The First Americans. Washington, DC: National Geographic Society, 2001: [162]. National Geographic Virtual Library.
Photo Credit
:
Design Pics Inc/National Geographic Creative